The law firm's soon to be empty headquarters at 1701 Market Street was purchased today by the Alterra Property Group for conversion to 299 apartments units.
Alterra Property Group has acquired 1701 Market Street, the soon-to-be vacated headquarters of law firm Morgan Lewis & Bockius, which the developers plan to convert from offices into 299 apartments.
The transaction, which was finalized on Thursday, culminates months of negotiations and advances the largest office-to-residential conversion in Philadelphia since the pandemic. The seller is an affiliate of Lexington Industrial Trust.
"I really can't think of a better adaptive reuse candidate in Philadelphia from office to residential," said Leo Addimando, managing partner at Alterra.
Morgan Lewis is the sole tenant in the 18-story building and will be leaving for its new custom-built headquarters at 2222 Market Street. That means the building will be fully vacant, making conversion far easier for developers.
A principal barrier to office conversions is the staggered leases in many buildings, which can leave structures half full.
"It's a rare opportunity to buy what is effectively an empty office building," said Addimando. "It's a very favorable live, work, play location in Center City Philadelphia that is zoned properly, has a favorable geometry for residential conversion, and has an integral garage."
Alterra's apartment building will have at least 180 parking spaces in its garage and residents will also enjoy direct access to SEPTA's Suburban Station from within the building.
The building includes about 14,000 feet of ground floor retail. Three spaces are currently occupied by a hair salon, an AT&T, and a TruMark Financial Credit Union. The fourth space, fronting JFK Boulevard, used to host a Corner Bakery and is currently empty. Alterra is hoping to move in a high-end restaurant or retail user.
Alterra plans to refurbish an existing rooftop terrace and add a pool.
Negotiations have been ongoing since last year but were complicated by spiking interest rates and continuously elevated construction costs, which threatened to make the project impossible.
"Capital markets have shifted quite a bit between now and when the building went to market in early 2022," said Connor Burke, director of acquisitions with Alterra. "One of the big reasons this deal was able to get done is having a cooperative counterparty. We were able to have open and transparent dialogue in an environment when it's difficult to get a real estate transaction done."
The parties would not disclose the sale price or whether it had been reduced from its initial listing.
Alterra applied for permits for a 325-unit conversion in July. But the sale was still not a done deal, and Addimando declined comment at the time.
Since then, Alterra has lowered the unit count to make room for some larger apartments. There will be no studios in the building, instead it will largely be of one- and two-bedroom apartments.
Alterra expects that construction will begin early next year after Morgan Lewis moves out and anticipates that the project will be finished by early 2025.
This month, two more zoning permits have been pulled to convert two other Center City office buildings to apartments: 265 units on the western side of the Public Ledger building and 67 units in the former WCAU building on Chestnut Street.
This boomlet comes amid a drowsy conversion market in Philadelphia, despite an office sector that's seen a spike in vacancy — largely because so many of the prime opportunities for commercial-to-residential were seized pre-pandemic.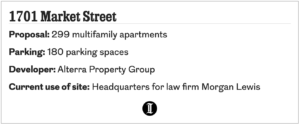 All three buildings that have moved toward conversion this month were completely or mostly empty of tenants, and unlike most modern office buildings, did not have large amounts of dark interior space that frustrates many residential renovations, because it inhibits the potential for natural light.
Alterra is known for large multifamily projects, including Lincoln Square at the corner of Broad Street and Washington Avenue. They also have deep experience with pre-pandemic office-to-residential conversions, including One City at 1401 Arch Street.
The company jumped on the 1701 opportunity because of its premium location in the middle of Center City's office district and within easy walking distance of City Hall and Rittenhouse Square.
"There are not a lot of opportunities to drop an 18-story building in this part of Philadelphia," said Burke. "Long term this will be a huge benefit to the city to revitalize a vacant office building into a class A multifamily residential building."